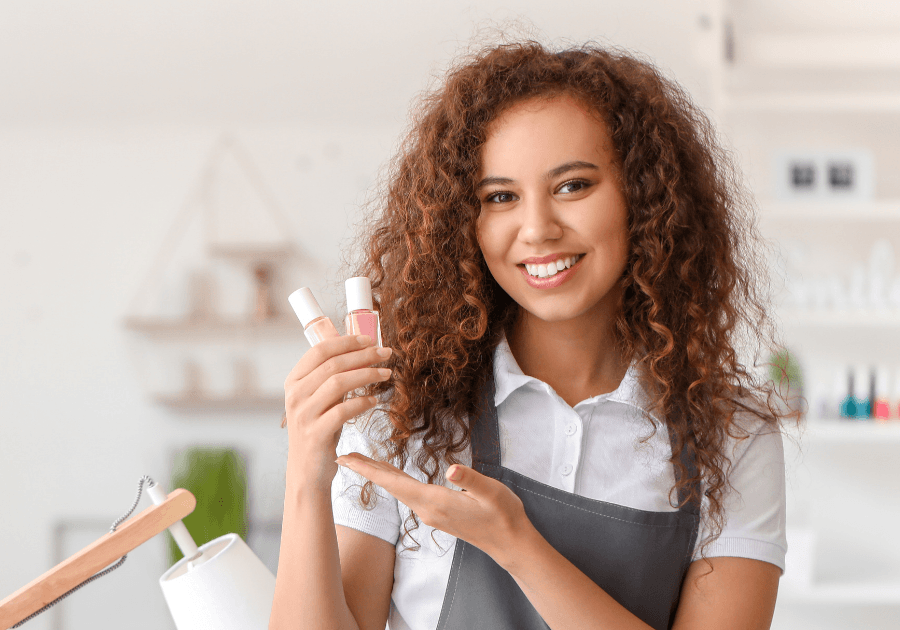 Here are some of the most frequently asked questions about becoming a nail technician and the answers every potential student should know.
What Does Being a "Nail Technician" Mean?
A nail technician is someone who professionally specializes in nail care—everything from basic nail maintenance and hygiene to high-end services and nail art. Nail technicians will perform services like pedicures, manicures, acrylic and gel overlays, hand treatments, nail design, and more.
Are Nail Techs in High Demand?
At this time more than ever, you can expect to find a promising career in the nail tech world. Compared to other jobs, manicurist positions are expected to grow up to 19% in the next decade—much higher than the national average. With such a glowing outlook on career prospects, there is no question that nail techs will continue to be in high demand. Nail care needs and design trends are always changing and new professionals are greatly valued.
Do Nail Techs Need a License?
The specifics of licensure can vary between states, but typically some type of licensure or certification is required to become a practicing nail tech. This process is usually authenticated by a State Board.
Thankfully, there are accredited nail tech programs out there that are designed to get you the skills you need while reaching this training hour requirement. Attending these nail tech programs will grant you the educational level required to apply for your state license when the time comes.
Schools like PJ's College of Cosmetology can get you the hours you need to become a nail technician. PJ's certified nail technician program will prepare you not only to apply for a license but to enter the nail tech workforce in salons and spas. This is a 600-hour course.
Are Nail Techs Considered Self-Employed?
This depends on the choices you make after completing your nail tech training. There is a myriad of ways to how you can function as a nail technician. Some people choose to become business owners for their own specialty services while others work for established salons or spas. Typically, those that rent a space to practice their work and individually take clients will be self-employed. Other nail techs work from an hourly or salaried wage. Commission-style pay systems can also be common. The most important thing to know is that there are plenty of options, and you can decide which job type best works for your needs and lifestyle.
What Supplies Does a Nail Tech Need?
Nail techs do work with many instruments, tools, and even chemicals. The good news is that when you enroll in a nail technician training program, your supplies will generally be a part of the program cost. Starting out, you will get a kit with the supplies you need to learn and start executing your nail tech services. Products you will need include emery boards, polymers and monomers, cuticle scissors, base and topcoat, sanding blocks, oils, nail baths, and more.
Can Nail Technicians Work From Home?
Though it is true not all nail techs work in traditional spas and salons, some may work more freelance and travel to provide services to top clients. Others may work behind the scenes in the fashion or entertainment industry. Some people like to set up their own professional spaces. However, it is essential that you make sure your workspace is following all local laws and regulations. Home-based salons are becoming more prevalent but restrictions apply. This is not an option for all states. In those that do, there will be important codes and guidelines to follow. In many, you will be required to have a separate business license from your nail tech license.
Is Nail Tech School Worth It?
If you are interested in becoming a nail technician, nail tech training will be beneficial and extremely valuable for gaining the hours you need. Without it, you will likely not be eligible to apply for your license or officially set up your practice.
Beyond the technical reasons, a nail technician training program and an accredited beauty school will allow you to grow your talents, express your creativity, and make industry and personal connections with students and instructors that have a passion for nails just like you. Not to mention, nail technician training can lead to long-term financial success and career stability.
Enrollment advisors are available to answer further questions you may have. Connecting with them directly is the best way to start this next chapter in your career. PJ's College of Cosmetology is eager to help you achieve your goals of becoming a professional nail technician. Our advisors are ready to assist you in enrolling in our open nail tech training course. Contact us online or call today at 800-62-SALON (72566).
* This article was originally published here