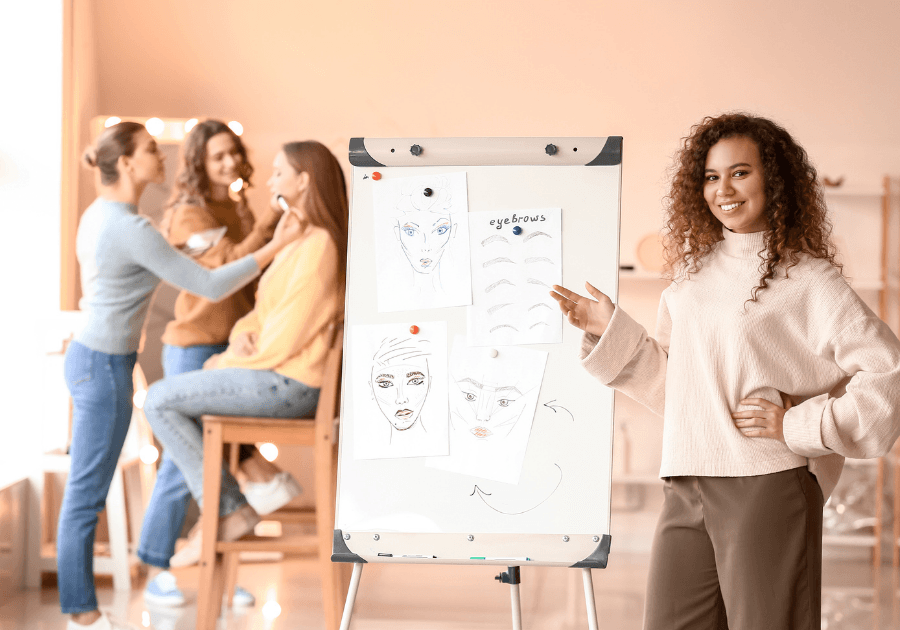 Instructor training is an ideal career move for cosmetologists at any age or stage of their life.
Any seasoned cosmetologist is familiar with all the directions a cosmetology career can take an individual. Whether you cut hair professionally or work as a freelance makeup artist, there is always someplace new your career can take you. Instructor training is a fulfilling option to consider if you're looking for new opportunities at any age. This guide details the benefits of attending an instructor course from an accredited cosmetology school.
The Next Professional Step in a Cosmetologist's Journey
No matter what your career or lifelong goals are, it is natural that we all look for new opportunities and avenues that will enrich our lives. For cosmetologists who have spent time working at salons or spas, it is common to want to explore new professional experiences. One of the most instinctive choices a cosmetologist can make is to enroll in an instructor training program. After spending some time honing your skills and mastering your craft, it is inherent to want to share those abilities with others. Moving into education is one of the most practical and natural decisions you can make.
At
PJ's College of Cosmetology
, the instructors and staff find their transition into education
rewarding and fulfilling
with its own benefits and joyful moments. Cosmetology colleges and beauty schools are the ideal places to launch the next phase of your career. Institutions like PJ's College offer a quality teaching and instruction program that gives professionals the skills they need to be successful in a classroom setting.
The Enriching Role of Teaching
Overall, educators find that there is a level of fulfillment and enrichment from teaching others that you simply can't get from working alone.
Shanah Nichols, a current instructor who attended PJ's educator course, had this to say in our recent
Instructor
Spotlight
:
"Being an educator is one of the most rewarding things, besides being a mother, that I have done. Helping the students get from point A to point B and watching their struggles and helping them overcome them… Helping them build their confidence and watching them graduate. It is the most rewarding part of it."
Overall, the connections you make with the students and the way you advise them as a source of inspiration is the most rewarding aspect of an instructor position. Most cosmetology students can fondly recall an instructor that helped them on a personal level in a deep and meaningful way. Instructor training gives you the tools to be the educator that every student needs.
Practice and Learn New Techniques Alongside Students
Another reason to join a cosmetology instructor program is that it keeps you on top of industry methods and trends. While the purpose of the course is to prepare you to teach, ultimately, all educators agree that they learn just as much from their students. Similarly, in cosmetology education, you will learn from your students while also keeping up with the latest curriculums, tools, and advancements. It is a practical way to stay connected to the beauty and cosmetology industry as a whole.
Give Back to Your Community
For many instructors, becoming an educator is their way of giving back to a community that helped build where they are today. Since they were once cosmetology students themselves, it feels like a natural progression to teach students as they were once in their shoes. Often the greatest reason for attending an instructor course is simply the fulfillment and joy it brings educators to help enrich lives as their favorite teachers once did. Every cosmetologist has that one inspirational teacher who they could never forget.
Establish a Long and Rewarding Career
Although finances and job titles are not primarily the reason people go into teaching, it is a part of it. Along with all the emotional and mental fulfillment you can get from teaching, there is also the promise of a steady and rewarding career. Financial success accompanies all the emotional rewards of attending an instructor training program, whereas traditional client work can often be more unpredictable at times.
Work With Leading Industry Professionals and Institutions
As an instructor-in-training, you will make valuable connections that can guide you professionally and in your personal life. Cosmetology programs have a network of educators and industry professionals who work together and advocate for the success of—not only their students—but each other. These networks are great ways to maintain connections to the industry, cosmetology and beauty institutions, and your fellow instructors.
Teaching, instructing, and mentoring are valuable and worthwhile career options for licensed cosmetologists. If you're interested in enrolling in an
instructor training program
, enrollment advisors are standing by to assist you.
Contact us today online
or call 800-62-SALON (72566) to start the next chapter of your fulfilling career.
* This article was originally published here